Daimler Century – 100 years of Daimler history
Or read in: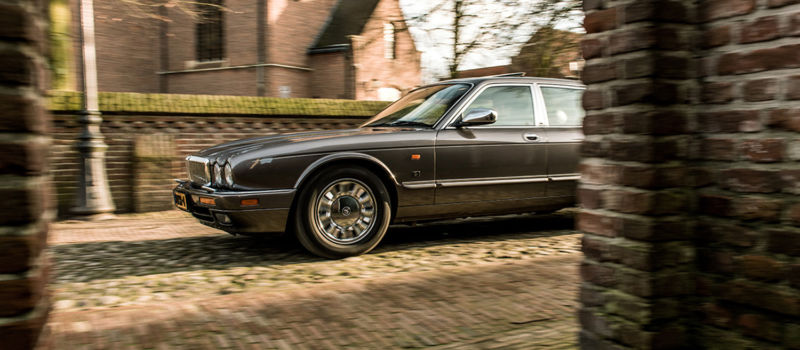 January 14, 1896, Harry J. Lawson and his patent on the Daimler combustion engine; the start of the prestigious Daimler Motor Company. A year later, the first Daimler rolled out of the Coventry factory; four cylinders, 4 BHP. A special team drove from John O'Groats to Lands End in less than 94 hours, a whopping 930 miles or almost 1,500km. A unique achievement that immediately impressed Daimler's quality.
Quality, that's what it was all about. It is not surprising that the Prince of Wales, later King Edward VII, placed an order with Daimler around 1900. The characteristic ribbed grille was introduced as early as 1904, which is still a characteristic of every Daimler more than 110 years later.
Jaguar made its appearance in 1960 by taking over the manufacturer Daimler. From then on, the ribbed grille has featured on Jaguar's most luxurious saloons.
1996, 100 years of history. This was celebrated with a special model; the Daimler Century. Supplied in 4.0 six-in-line and 6.0 V12. Each model performed in Long Wheel Base. It had to be the most luxurious, most complete Daimler ever, a special model. Only 100 pieces of both engine types were produced to ensure exclusivity.
Everything about the Daimler Century exudes quality and luxury. The beautiful Turbine rims, fully chromed. Black Century emblems, gold inlaid. Luxurious burr walnut of the highest quality, "Century" inlaid. Almost every interior part is finished with the soft-touch, fine Analine leather. A Harman Kardon sound system with 9 speakers and 240 watts of power.
Never before have you even found a memory function for the fully electrically adjustable seat on the passenger side, but in the Century models. Although the luxury captain chairs in the back did not actually make their appearance until 1997 during the inauguration of the new type X308, Daimler had the scoop with the Century; in the rear compartment you will find the electrically adjustable and heated separate seats, with the typical Daimler logo on each headrest. The make-up mirrors, recessed into the headliner and turned slightly towards each seat, complete the picture.
It is clear it is a special model. A Daimler Six Century had a price of FL247,000 at the time, the Double Six left Coventry for FL260,000. An amount that is comparable to the price of a new Bentley today, just to name an example.
You can imagine how extremely rare a Daimler Century is. A total of 200 copies have been distributed worldwide. How many of this are left? Who will know.
A Daimler enthusiast through and through awarded us his beautiful Century, knowing that we will do everything we can to bring this special classic to the best condition. That worked, of course.
View this special Daimler here.